The right and left cortex
Moving on from the cerebellum into a practical workshop on the right and left sides of the brain. Interestingly, the two cortices are separated by the corpus callosum and are structurally and physiologically different from each other.
An interesting brain fact;
"All sensory or movement input is processed on the OPPOSITE side of the brain, except smell'
So what about this left / right thing?
Why do I care?
How can it help me?
How can it improve my mood or performance?
Like anything else in the body balance is key, the same applies to the brain, may unpleasant things such as pain, anxiety, over-eating, depression come from imbalances in the brain. When we talk about the cortex people often just think of the frontal lobes and personality. A left brained person being more logical, linear and mathematical and a right brained person being more creative and emotional.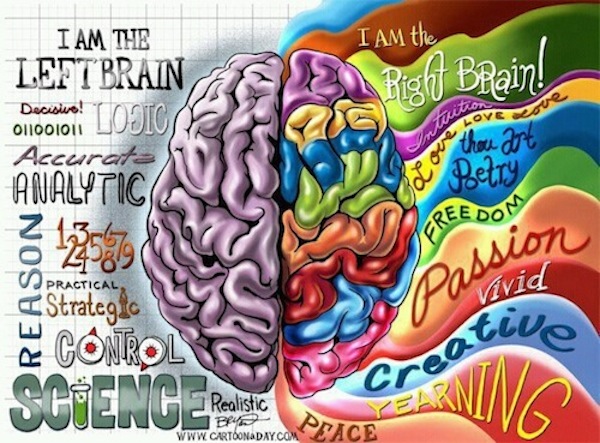 There is a lot more than this! There are other lobes to consider
– Frontal lobe – Movement, consciousness, behaviors
– Parietal lobe – Sensory and meaning
– Temporal lobe – Sound, memory and personality
– Occipital lobe – Visuals, sight
– Mesencephalon – Reflexes, wakefulness, OCD, making neurotransmitters
Left brain looks at the text, right brain looks at the context
Some of the positive attributes of the left cortex are its happier, stimulates the immune system, controls tone on the left side and voluntary movement on the right, processes sensory information from the right side of the body, some sound from right ear . It is curious, but impulsive. It regulates approach behaviors such as happy, angry, surprise and fright, which are both a good and bad thing. It also has a role in controlling pain on its own side of the body and is involved in intricate precise movements.
Right side is more cautious, but intuitive and creative. It manages the immune system by inhibiting it. It likes novelty and is good at understanding metaphors. It regulates retreat behaviors like disgust, sad, fearful and flight. The right side controls pain and muscle tone on its own side and voluntary movement on the left. The right brain processes big movements of the body in relation to the environment so important in sport. The right brain doesn't 'worry', which is a good and bad thing.
So what will we being doing in this workshop?
Playing games with numbers and visuals
Using audio and binaurals, metronomes and bone conduction head phones
Smelling things
Moving around
Balancing
Understanding there are ways to control anger and worry
Sensory activities